The National Theme for the 2014–2015 N.S.C.A.R. year is O! Say Can You See.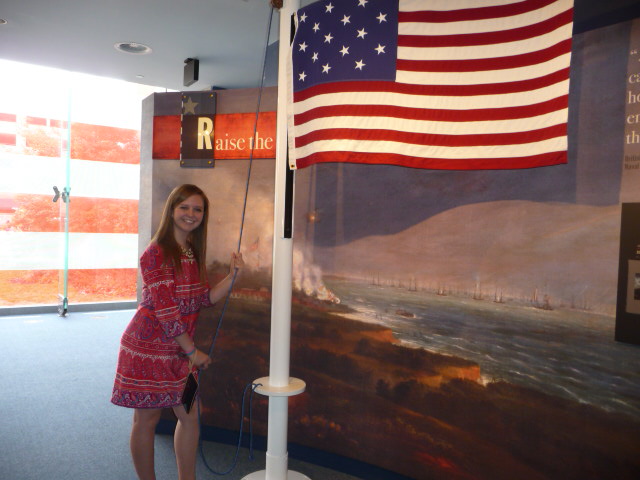 The 2014-2015 National President's project is to make a donation to the Star-Spangled Flag House in Baltimore, Maryland, in honor of the Star-Spangled Banner's bicentennial. The Star-Spangled Banner Flag House began as the home of Mary Pickersgill, the woman who sewed the Star-Spangled Banner, and has become a museum that retells the impact Mary and her flag had on our independence. The museum attracts nearly 10,000 visitors each year, with 30% of its visitors coming with school groups.
Unfortunately, of the ten flags on the grounds of the Flag House, all ten are in need of repair. As this is an expensive project and falls outside of restricted exhibit funds, the Flag House has been unable to fix them. This year, the N.S.C.A.R. hopes to raise $20,000 to donate to the Flag House. With our donation, all ten flags can be restored, including a large Star-Spangled Banner that flies in front of the museum. Our donation will also cover the cost of a recognition marker for the N.S.C.A.R. on the Flag House grounds.
In addition to a donation to the Flag House, this year the N.S.C.A.R. will place an emphasis on learning about our nation's flag. Local societies are encouraged to spend time learning flag etiquette and exploring the history of the American flag. Our flag symbolizes freedom and independence, and our societies will pay tribute to it in its bicentennial.
Join us as we honor the American flag. "O! Say Can You See", may our flag ever wave.
#TheFlagICarried from Star-Spangled Banner Flag House on Vimeo.
While developing her plans for the National Project, our National President, Betsy Ehmcke visited the Flag House and toured the exhibit.  Below are some pictures from that visit.  Share these pictures with your societies and others who want to learn about the site of this year's National Project!  You can click on the pictures for the full-size version.
Past National Projects include patriotic efforts such as promoting bonds during World War I and donating an ambulance during World War II.  More recent projects include protecting artifacts uncovered in Mount Vernon's archaeological digs; providing an outdoor classroom at the Independence Park Institute in Philadelphia, PA; and contributing to The National World War II Museum for the acquisition of educational tools and resources for the Student/Teacher Resource Center.